Just in time for Earth Day Wow! Wow! Wubbzy! is getting into the spirit with Wubbzy Goes Green!  What's even better is that they have partnered with Alliance for Community Trees to make this Earth Day even greener.
For every Wubbzy Goes Green DVD that is sold, Anchor Bay will donate $1 to the ACT in order to help support planting trees in playgrounds and schools.  Trees are important for many reasons.  Here are some facts from the Alliance for Community Trees:
Asthma rates among 4- and 5-year-old children fell by 25% for every extra 343 trees per square kilometer
Students perform better in tests when surrounded by trees and grass
Neighborhoods with more trees experience less crime 
Cleaner air: Trees help trap and remove tiny particles of soot and dust, which otherwise damage human lungs, and tree root networks filter contaminants in soils producing clean water. Four million trees would save $20 million in annual air pollution cleanup
Energy saver: The cooling effects of trees can save millions of energy dollars! Three to four shade trees located strategically around a house can cut summer cooling costs by 30-50%!
Healthier children: Performing activities in green settings can reduce children's Attention Deficit-Hyperactivity Disorder symptoms.
Graham has been enjoying all of the wonderful Wow! Wow! Wubbzy! earth-friendly episodes.  They teach children not only about taking care of our Earth, but about taking care of the different creatures in it and several other character traits including responsibility.  It is available at Amazon for about $14.
This product was provided free of charge by Anchor Bay. These are my honest opinions on the product. I do not post reviews on products I can not stand behind. Please see my Terms of Use for more info.
This giveaway has ended.  Congratulations to Michelle!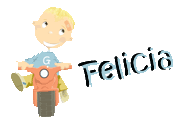 Subscribe to Go Graham Go as well as follow us on Twitter!
Felicia Carter is founder and managing editor of Go Grow Go. Her philosophy is to simplify, save, grow and go! Her home is generally full of DIY projects, crafts, yummy baked goods and lots of love. Felicia is also a wife, mom of 2 boys and nationally certified counselor. You can always find her near the chocolate or the coffee pot.