Yes, again.
Ok.  So we won't be in school until July, (at least I don't think), but we are definitely going to be in Saturday school for a while.. ugh.
Might as well lick the window right?  After all, this could potentially be our "Saturday" together.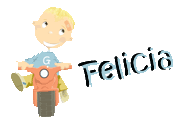 Subscribe to Go Graham Go as well as follow us on Twitter!
Felicia Carter is founder and managing editor of Go Grow Go. Her philosophy is to simplify, save, grow and go! Her home is generally full of DIY projects, crafts, yummy baked goods and lots of love. Felicia is also a wife, mom of 2 boys and nationally certified counselor. You can always find her near the chocolate or the coffee pot.