Here is a fun and easy way to celebrate Halloween with the kids!  It is nice to find something preschoolers can do by themselves.  Graham really enjoyed every aspect of this and they turned out very cute!
Witch Hat Cookies
Ingredients:
Keebler Fudge Stripes Cookies (we used the new oatmeal kind)
Hershey's Kisses
Orange icing in a tube or can (makes squeezing easy for kids)
Preparation:
Take one Fudge Stripe Cookie and flip it to the fudge side.
Squeeze the icing in a circle around the center hole of the cookie.  You might want to make sure you have a plate or paper towel under neath for any excess.
Open up the Hershey's Kiss and place on top to serve as the point of the hat.
Eat up!
Fun Read While Snacking
Keep the Witch Hat fun going by checking out Room on the Broom from the library!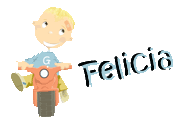 Subscribe to Go Graham Go! by Email as well as follow us on Twitter!