Yogurt is a staple in this household.  It is an easy breakfast or snack item and is healthy without packing on the pounds.  When I stumbled upon the recipe for a pumpkin yogurt in one of my Real Simple magazine, I knew I had to try it.  At first, it may not sound like something you would like to eat, but I am here to tell you that it is my new favorite way to eat non-fat vanilla yogurt this fall.
Vanilla Pumpkin Spice Yogurt
Ingredients:
1/2 cup of non-fat vanilla yogurt
2 tablespoons canned pumpkin
a pinch of pumpkin pie spice
Preparation:
Dish your yogurt into a small cup and mix in the pumpkin.  Sprinkle the pumpkin pie spice on top and enjoy!  Easy and a new twist on your morning yogurt.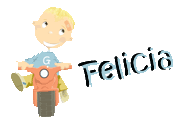 Subscribe to Go Graham Go! by Email as well as follow us on Twitter!
Felicia Carter is founder and managing editor of Go Grow Go. Her philosophy is to simplify, save, grow and go! Her home is generally full of DIY projects, crafts, yummy baked goods and lots of love. Felicia is also a wife, mom of 2 boys and nationally certified counselor. You can always find her near the chocolate or the coffee pot.