There are a ton of online boutiques and children's clothing stores out there. I have really never been one for name brand clothing so Trendy Brandy Kids was all new to me! I know that a lot of us do not have the luxury of buying some of these "high end" clothes, but for special occasions, I have found a pretty cool boutique!
Trendy Brandy Kids has children's fashion such as: Jottum, Me Too, Marese, Tatiri, Catimini, Jean Bourget, and Alphabet . In the Trendy Brandy Kids Boutique you can see children's clothes from France, Denmark, Italy, and the Netherlands.
The on-line Trendy Brandy Kids Boutique offers some collections for spring/summer 2009 from leading manufacturers of children's clothes and accessories. If you are looking for something for a special occasion this would be a wonderful place to visit!
Follow Trendy Brandy Kids of Twitter to receive new updates!
Save $7 off a $55 purchase (valid until 4/10/09) with Coupon Code: NQX4WP
This giveaway has ended! Congratulations to Mel!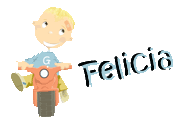 Felicia Carter is founder and managing editor of Go Grow Go. Her philosophy is to simplify, save, grow and go! Her home is generally full of DIY projects, crafts, yummy baked goods and lots of love. Felicia is also a wife, mom of 2 boys and nationally certified counselor. You can always find her near the chocolate or the coffee pot.