We are blessed to have a child who doesn't seem to mind brushing, at least now that he is no longer teething. We do have a few silly brushing rituals that we use when brushing to make it more fun. With the Christmas goodies (cavity central) rolling around, it's a good thing he enjoys it!
Tom's of Maine has a natural toothpaste for kids in Silly Strawberry flavor that I am excited about! It is the only natural toothpaste option to carry the ADA Seal of Acce
ptance. It does this while still being maintaining Anticavity with Fluoride. There are no artificial flavors or dyes because the flavor comes from real strawberry flavor oils.
Graham likes using this Silly Strawberry toothpaste during our own silly brushing rituals. First, we give him his toothbrush and let him brush for about 30 seconds. We always have to remind him to spit "gently" because he has a tendency to become a bit over zealous! The next thing we do is brush his teeth for him, but we say "laugh hard" so that he opens his mouth wide. If he starts to close his mouth we say "you better laugh harder." It is fun for him and helps us out as well! While we are brushing we talk about how we are tickling his teeth so that he will keep laughing.
Mommy and Graham sticking out our tongues after brushing (he was about a year old).
You can purchase Tom's of Maine Natural Anticavity Fluoride Toothpaste for about $2.95 at drugstore.com or retail locations near you.
This product was provided free of charge by Tom's of Maine. These are my honest opinions on the product. I do not post reviews on products I can not stand behind. Please see my Terms of Use for more info.
This giveaway has ended. Congratulations to Mel4Him, Shannon717717, I am Lee-Ann, Bonita12, and Suzie Garcia!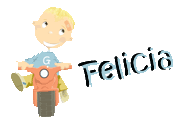 Subscribe to Go Graham Go as well as follow us on Twitter!
Felicia Carter is founder and managing editor of Go Grow Go. Her philosophy is to simplify, save, grow and go! Her home is generally full of DIY projects, crafts, yummy baked goods and lots of love. Felicia is also a wife, mom of 2 boys and nationally certified counselor. You can always find her near the chocolate or the coffee pot.