Free Spirit is a publishing company that has been a life saver for me in both my profession and as a mother.  I have used their books many times for working with children of all ages.
We recently purchased Hands are Not for Hitting and Feet are Not for Kicking from their collection for toddlers.  I love how the simple messages are clearly laid out for young children.  Graham completely gets these books.  He even asks for them to be read to him at night sometimes.  I love the illustrations that accompany the text in order to reinforce the ideas.  The books not only tell you what you should not do with your hands and feet, but it stresses the things that we can do with our hands and feet.
I have not had a chance to check out the Toddler Tools Series, but they look like they would be phenomenal!  If they are anything like the two books we own, they will be extremely valuable to have around.  They offer titles such as Listening Time, Sharing Time, Manners Time and more!  You can purchase the entire set of 8 books for $54.08.
This giveaway has ended and the winner has been emailed.  Congratulations to Nanette!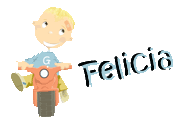 Subscribe to Go Graham Go as well as follow us on Twitter!
Felicia Carter is founder and managing editor of Go Grow Go. Her philosophy is to simplify, save, grow and go! Her home is generally full of DIY projects, crafts, yummy baked goods and lots of love. Felicia is also a wife, mom of 2 boys and nationally certified counselor. You can always find her near the chocolate or the coffee pot.