If you are  looking for a fun little DVD/CD combo for your toddler, check out the Toddler Favorites The Movie from Music for Little People.  It includes favorites like, "I'm a Little Teapot," "Wheels on the Bus," and more.
We were sent a copy for review, and while I don't really let Davis watch movies, I put it in while he was in the living room and he stopped and danced to each new song as the movie played.  So cute!  Your toddlers are going to love the animations and upbeat tunes.  If you are hitting the road you can take the CD companion with you!
Toddler Favorites the Movie will be available August 31st for about $9.99.
This product was provided free of charge by Music for Little People. These are my honest opinions on the product. I do not post reviews on products I can not stand behind. Please see my Terms of Use for more info.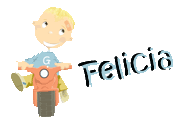 Subscribe to Go Graham Go! by Email as well as follow us on Twitter!
Felicia Carter is founder and managing editor of Go Grow Go. Her philosophy is to simplify, save, grow and go! Her home is generally full of DIY projects, crafts, yummy baked goods and lots of love. Felicia is also a wife, mom of 2 boys and nationally certified counselor. You can always find her near the chocolate or the coffee pot.