Self feeding and learning to use utensils has probably been the toughest battle for us.  It seems that once children learn they can use their hands to eat, they find that it is easier than learning how to use utensils.  When I saw Tinytongs my first thought was "Genius!".
Tinytongs uses the ideas of chopsticks or grill tongs in order to help your child learn to feed themselves.  It works great because it is just the right size for small hands and has grippers built in in order to help pick up and keep food secure.  The tension on the Tinytongs is just right for picking up a good bite size (not to big and not to small).  The outside has a nice, jelly-like feel to it that makes it easier for kids to hang on to.  Tinytongs are also non-toxic and dishwasher safe.
What has been great for us is that the Tinytongs provide a fun factor that makes Graham actually want to use them.  He will try several times before giving up.  With a regular fork or spoon he will try once and become frustrated.  Graham actually asks for his "tongs" when we sit down for dinner.  I think they are definitely helping him learn the fine motor skills that are necessary for mastering the fork and spoon.
You can purchase a single Tinytong for $7.99 or a 4-pack for $24.99 on their website.  Tinytongs would make a great baby shower gift idea for those of you who look for the unique.
Use code: ggg2010 to receive 20% off any order!
This product was provided free of charge by Tinytongs. These are my honest opinions on the product. I do not post reviews on products I can not stand behind. Please see my Terms of Use for more info.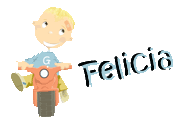 Subscribe to Go Graham Go as well as follow us on Twitter!
Felicia Carter is founder and managing editor of Go Grow Go. Her philosophy is to simplify, save, grow and go! Her home is generally full of DIY projects, crafts, yummy baked goods and lots of love. Felicia is also a wife, mom of 2 boys and nationally certified counselor. You can always find her near the chocolate or the coffee pot.