Something I realized today is that there is a lot to be learned from my 2 year old son. Our children have such amazing innocence and a completely different look on our world. Sometimes it is refreshing to step back and take a look at the world through a child's eyes.
1. Slow down. There is so much to see and explore. Graham amazes me at his ability to spot an airplane that is so distant you can barely make it out. The point is, he is looking. He takes the time to stop, wait, look, and listen.
2. Find enjoyment in the little things. Once Graham has found that airplane he is giddy with excitement! "Airplane, airplane!" he shouts! "I hear it! I see it!" It is usually on the days that I have had a pretty stressful day at work that he reminds me of this one by pointing out the "every day things" that I so often miss.
3. Laugh until your face hurts. It doesn't take much to get Graham into a side splitting laughing fit! You can tickle him in just the right spot under his neck or on his side or make a silly noise. It is true that everyone feels much better after a good laugh! It releases endorphins and makes us feel refreshed! No wonder these little guys have so much energy! They are always laughing!
4. Say "I Love You." Graham will not let you leave the room without telling you that he loves you. Sometimes, almost to remind you, he says, "I love you too!" I know that life can get hectic, but an "I Love You" is always needed! Really, what is life all about?
5. In all things, bless the Lord. There are many times when I find sweet little Graham over in the corner, maybe riding his truck or playing with a toy and he starts praying. Of course, you can't understand the complete prayer but at some point all of his family members and friends are mentioned and then there is always a sweet little "A-MEN!" at the end. If there was ever an important lesson to be learned this has to be it! No matter what we are doing, who we are with, we must bless the Lord!
Thank you Lord for the sweet little boy that you have loaned to us. Thank you for the lessons you are teaching us through him.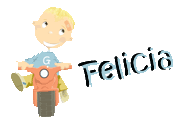 Felicia Carter is founder and managing editor of Go Grow Go. Her philosophy is to simplify, save, grow and go! Her home is generally full of DIY projects, crafts, yummy baked goods and lots of love. Felicia is also a wife, mom of 2 boys and nationally certified counselor. You can always find her near the chocolate or the coffee pot.