I am so excited that it is finally spring!  I can't even really bring myself to cook hot meals anymore because of the wonderful weather and the wonderful selection of fresh fruit and veggies.  One of my favorites has always been the Strawberry Trifle.  This one is quick, fun, and easy!
Ingredients:
1 package of instant vanilla pudding (5 oz)
1 large tub of frozen whipped topping
1 Angel Food Cake cut into pieces (bought mine from Ingles on special for $1.99)
1 package of fresh strawberries (cut in halves)
4 bananas sliced
3 cups of milk
Preparation:
Prepare your vanilla pudding according to the package (usually requires 3 cups of milk).  Layer the angel food cake pieces on the bottom of the bowl (if you want a good recipe for a fat free one check out Jolly Mom).  Pour the pudding over the angel food cake and layer bananas, strawberries, and whipped topping.  Repeat this to form another layer that ends in whipped topping.  You can decorate the top with a few remaining strawberries.  Stick your strawberry trifle in the fridge and serve it chilled.
Head over to Balancing Beauty and Bedlam for more recipe ideas!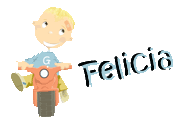 Subscribe to Go Graham Go as well as follow us on Twitter!
Felicia Carter is founder and managing editor of Go Grow Go. Her philosophy is to simplify, save, grow and go! Her home is generally full of DIY projects, crafts, yummy baked goods and lots of love. Felicia is also a wife, mom of 2 boys and nationally certified counselor. You can always find her near the chocolate or the coffee pot.
If you enjoyed this post, join the 4K+ others who subscribe for updates! {it's free of course}: