When three sisters from a small town in upstate NY combined their passion, creativity, and concern for the environment, skeeda© was born.
Driven by a commitment to reduce waste, their goal is to tap into your sense of style to motivate you to make small changes in your daily lives to ensure a better life for future generations. In fact, future generations were the inspiration for the name. They took an initial from each of their children and created the acronym skeeda (exerpt taken from www.skeeda.com).
Because the environment is not going to clean itself, we all need to do our part! Skeeda bags help you do that fashionably and affordably! Selected for the 2007 MTV celebrity gift bags, skeeda is roomy and sturdy with a "flavor" that can be yours! All bags are only $15 and can be monogrammed for only $4 extra! There are currently 10 styles to choose from!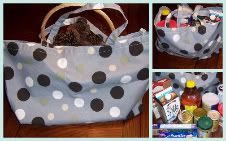 These bags are huge! They are roomy enough for a full bag of groceries plus some and they are super sturdy! The straps are nice and long and heavy duty! These truly are the best bang for your buck!
Think of all the money you will be saving by using a quality reusable bag, not to mention, all of the environment you will be saving! Save even more starting now until February 3rd with 20% off using coupon code: graham.
This giveaway has ended! Congratulations Katey!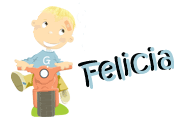 Felicia Carter is founder and managing editor of Go Grow Go. Her philosophy is to simplify, save, grow and go! Her home is generally full of DIY projects, crafts, yummy baked goods and lots of love. Felicia is also a wife, mom of 2 boys and nationally certified counselor. You can always find her near the chocolate or the coffee pot.