I'm sure by now you all have discovered the greatness that is Pinterest!  Well, I was re-introduced to an old childhood favorite the other day (via The Pinterest Project) and Graham and I created some fun Salt Dough Ornaments for his preschool teachers and for our own tree.  The recipe is simple and you probably already have everything you need in your cabinets.
Salt Dough Ornaments Recipe
What You Will Need:
1 1/2 cups of flour
1/2 cup of salt
1 cup of water
Cookie cutters
Stamps
Stamp ink
Straw
Ribbon or string
Preparation:
Preheat your oven to 250 degrees.  Mix all of the ingredients together in a large mixing bowl until a sticky dough forms.  I had to add more flour than the original recipe (the reason my recipe calls for 1 1/2 cups of flour).  You may have to experiment with the flour and water to get the right consistency for you.  After you have a sticky dough simply knead it and roll it out onto parchment paper that is covered with flour.  Begin to cut the dough with the cookie cutters and place them onto a baking sheet.  Use your stamps to stamp a design into the ornament by pressing down lightly.  Use the straw to make a hole in the top for ribbon. Bake the ornaments on 250 degrees for about 4 hours. They will rise!  After they have cooled for several hours you can either cover them in acrylic or go ahead and put your ribbons in and decorate or give as gifts!
Again, you can find the original recipe at The Pinterest Project which links to other awesome ideas!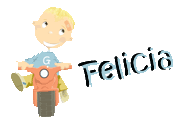 Subscribe to Go Graham Go! by Email as well as follow us on Twitter!
Felicia Carter is founder and managing editor of Go Grow Go. Her philosophy is to simplify, save, grow and go! Her home is generally full of DIY projects, crafts, yummy baked goods and lots of love. Felicia is also a wife, mom of 2 boys and nationally certified counselor. You can always find her near the chocolate or the coffee pot.