Who saw the 2009 Santa Buddies movie?  Well, you are going to want to check out the prequel to the movie that is being released in a few weeks (11/23 to be exact).  The Search for Santa Paws gives the story behind how Santa Claus and Santa Paws became friends.  We are anticipating this to be a hit for Christmas this year.  Graham really is starting to get into movies and saw the preview for The Search for Santa Paws on his new Toy Story 3 Movie.  He has already expressed an interest in watching it!
So, November 23rd pick up your copy (DVD & Blu-ray combo pack), light a fire, get out the hot chocolate and have a family movie night Christmas style!  Here's a sneak peak:
This product was provided free of charge by Disney. These are my honest opinions on the product. I do not post reviews on products I can not stand behind. Please see my Terms of Use for more info.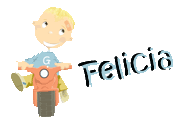 Subscribe to Go Graham Go as well as follow us on Twitter!
Felicia Carter is founder and managing editor of Go Grow Go. Her philosophy is to simplify, save, grow and go! Her home is generally full of DIY projects, crafts, yummy baked goods and lots of love. Felicia is also a wife, mom of 2 boys and nationally certified counselor. You can always find her near the chocolate or the coffee pot.