Ha ha, I have to laugh. I really do. This book, Sally Simon Simmons' Super Frustrating Day, by: Betsy Brown Braun, was made for my little people. Especially my five-year-old.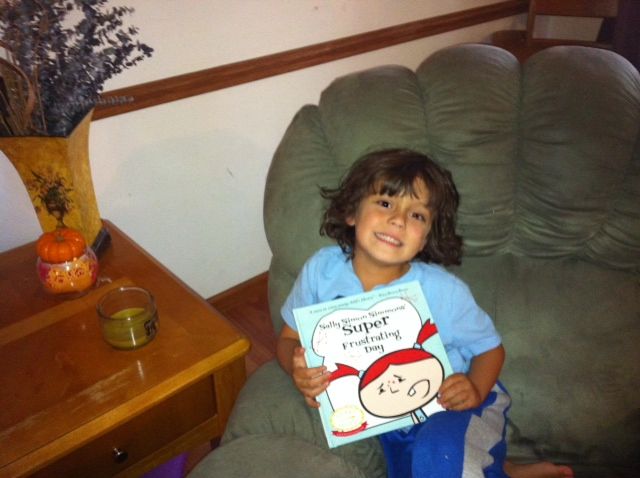 As I was reading this darling, and i mean darling, book to my little buddies, I had this strong urge to smack the author a high-five. She delivered a great scenario to help children with their frustrations. Frustration is just something that children deal with. Period. All of them. In the eyes of a child, it's the end of the world in that single moment when the tower of blocks they have been earnestly building goes kaput. They feel defeated. Hopeless even.
The tower of blocks in this book came in the form of a mile-high deli sandwich. As the pages turn, and Sally Simmons' deli tower continues to fall, time-after-time, she faces defeat. She even gives up. Quits.
Then, with the help of some kind, uplifting, and encouraging words from her teacher, she was taught that practicing is a good thing. It's how we grow. I guess my favorite part, other than watching it click with my son, was how at the very end, Sally took a deep breath, focused, and was okay if it fell. Because after all, she did her very best. Is that not what we expect out of our children? To do their very best? No matter the outcome?
And since i like victory, I'd like to announce that Sally's sandwich did not fall.
Ahhhh, I love happily ever afters. I have joyfully added this little gem to our bookshelf. So should you. <–(click on the link to purchase.)
Happy Reading!

This product was provided free of charge to Christy. These are her honest opinions on the product.  Please see my Terms of Use for more info.
Subscribe to Go Graham Go! by Email as well as follow us on Twitter, Facebook, Pinterest and Google+!
I'm a happy girl, married to my best friend, trying my darndest to raise happy little people. I love to smile. I still believe in goodness. I want to spread it.