It never fails, the cell phone ALWAYS rings when I am in the worst position to find it (balancing a baby on a hip while shopping, getting in the car, etc). And it never fails that I can NEVER find the blasted thing!
If you are like me, your purse/diaper bag is HUGE because you have to carry everything but the bathroom sink when you leave if you have a baby or toddler! I dig around in that never ending bag that seems like the abyss when checking out to find my wallet or pen and check book. Screaming kid? Forget finding the cheerios! They are mangled up in all the other junk that is just floating around in there!
Enter… the Pouchee (insert angelic singing here)
This organizational tool is a dream come true! Sandy Jenney from Organ
ize with Sandy sells these genius contraptions! If you haven't already seen her site you need to check her out! She also has 3 awesome blogs and was interviewed here for her organizational tips! There are separate spaces for cell phone, blackberry or handheld organizer, eyeglasses or lipstick, credit cards/license, inside room for money and extras with zippered pouch, and convenient carrying loops so that you can just pick it up and put it in another bag! What more could a girl ask for??!! I am no longer digging around for my phone when it rings and there's no angry mob forming behind me in the checkout line while I try to find my wallet!
The Pouchee retails $21.50 for cotton and $22.50 for leatherette! These would make excellent graduation, mother's day, or birthday gifts! I love mine!
Here are the Features:
*Six credit card pockets
*Four other pockets on the outside that are great for your cell phone, glasses, pager etc
*Inside contains a zippered pocket for money, loose change or anything else you may want to stay hidden
*Two small interior pouches for lipsticks or more pens
*Divided middle with 2 roomy sides that can fit your checkbook, wallet or PDA
*Expands to 4″ wide
See it in Action:
This giveaway has ended! Congratulations to mom2anutball!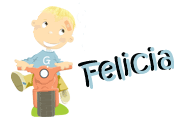 Felicia Carter is founder and managing editor of Go Grow Go. Her philosophy is to simplify, save, grow and go! Her home is generally full of DIY projects, crafts, yummy baked goods and lots of love. Felicia is also a wife, mom of 2 boys and nationally certified counselor. You can always find her near the chocolate or the coffee pot.