You guys see me reviewing tons of iPad, iPhone and iPod apps that are games or stories for kids on this site.  I do it because they are a big part of life for Graham and have even had a hand in teaching him a thing or two. Therefore, I think I am qualified to make the statement that this is an app unlike any I've ever seen.  Plug & The Paddywhacks is much more than just another interactive story.  It is a journey, an epic really, that will have your kids excited for the next issue.
We were sent Season 1 for review and not only does Graham like them, I really enjoy them!  The Paddywhacks are supposed to remain in the Plex.  It is an automated world that takes care of everything for Plug and the rest of the Paddywhacks.  You learn all about what happens in their daily routines in the Plex.  However, one day a mysterious figure breaks them out of the Plex and the Paddywhack's world is turned upside down.  Everything they thought they once knew is being challenged.  All of the adventures for the coming issues begin here.  You and your child will be excited to follow along each month to what lies ahead.
What you are going to appreciate as parents is that kids are learning about the important things.  Yes, they are going to be challenged and taught to think about their own character.  You are also going to appreciate that this opens up a great avenue for conversations that can not only help enrich your child, but bring you closer together.
Plug & The Paddywhacks is a free app to download and the first issue is included.  From there you can buy each issue one by one for $.99 or the entire season for $5.99.  It is money well spent!  If you have an iDevice, make sure to check this one out for sure!
This app was provided free of charge by Scholar & Saint . These are my honest opinions on the product. I do not post reviews on products I can not stand behind. Please see my Terms of Use for more info.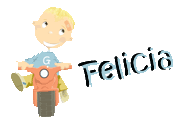 Subscribe to Go Graham Go! by Email as well as follow us on Twitter!
Felicia Carter is founder and managing editor of Go Grow Go. Her philosophy is to simplify, save, grow and go! Her home is generally full of DIY projects, crafts, yummy baked goods and lots of love. Felicia is also a wife, mom of 2 boys and nationally certified counselor. You can always find her near the chocolate or the coffee pot.