A recent trip to Georgia left us with a bucket full of ripe peaches!  I used most of them to create Peach Ice Pops for the boys and baby food for Davis.  But, I was itching to try a new type of salsa I'd been hearing about that involved peaches.  Here is one that is great and healthy!  If you love chunky salsa this is the recipe for you.
Peach Mango Salsa
Ingredients:
1 ripe peach, diced
1 mango, diced
1 tomato, diced (I leave out the seeds)
1/3 cup of onion, diced
1/3 cup of your favorite pepper, diced (bell is probably the best bet).  We used "Fooled You" Peppers!  They look like Jalapenos but they are not hot.
Fresh cilantro, chopped fine
1 lime
Preparation:
Making salsa is so easy!  Just add all of the ingredients together and squeeze 1/2 of the lime over top.  You can eat this right away, but I have found that it tastes better once the ingredients have had time to settle.  What  nice compliment to some of your fish recipes this summer.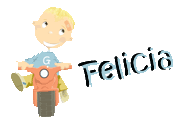 Subscribe to Go Graham Go! by Email as well as follow us on Twitter!
Felicia Carter is founder and managing editor of Go Grow Go. Her philosophy is to simplify, save, grow and go! Her home is generally full of DIY projects, crafts, yummy baked goods and lots of love. Felicia is also a wife, mom of 2 boys and nationally certified counselor. You can always find her near the chocolate or the coffee pot.