To kick off the Ultimate Baby Registry Guide, I wanted to share with you all from my favorite diaper brand, Pampers.
I love Pampers for many reasons, but now I have 2 more.  They have new "Hello" apps for the iPad, iPhone and iPod touch that are creative and fun ways to capture everyday moments of your baby or unborn child.  I have downloaded both apps and have been using the "Pampers Hello World Baby Memories" app.  I wish the "Hello Baby Pregnancy Calendar" had been around while I was pregnant with Graham and Davis.  Matthew and I purchased a book that helped us chart the growth of both of them while I was pregnant and it was amazing to read all about the progress they make each week.
Features on the new Hello World app include:
Making Memories– a one-touch sharing capability that allows you to take photo and videos, then quickly upload them to Facebook, Flickr, Twitter or Youtube at the touch of a button.
Albums– Allows you to conveniently organize and arrange, by category, your family's photos directly on your ipad, itouch or iphone device.
Growing Baby– Allows you to take daily photos of your baby then pulls them all together in a time-lapse video so you can see how quickly your baby is growing right before your eyes! The best part is you can use this feature to create your own personal parenthood story– start with the baby bump, then the growth of your baby's facial features, hands, feet, first tooth, etc.
We live in such a technology and social age, so it is nice to have an app that combines it all into one.  How many of you have pictures galore on your iDevices?  I know that my husband and I do.  I love that this allows you a place to chronicle and sort pictures so that they are easy to access and create fun memories with.
This giveaway has ended.  Congratulations to Kathy!


I am on the Pampers Baby Board, but was not compensated for this post. These are my honest opinions on the product. I do not post reviews on products I can not stand behind. Please see my Terms of Use for more info.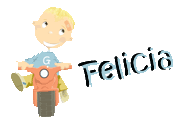 Subscribe to Go Graham Go! by Email as well as follow us on Twitter!
Felicia Carter is founder and managing editor of Go Grow Go. Her philosophy is to simplify, save, grow and go! Her home is generally full of DIY projects, crafts, yummy baked goods and lots of love. Felicia is also a wife, mom of 2 boys and nationally certified counselor. You can always find her near the chocolate or the coffee pot.