There are several thousand out to get me! They even show up in my front yard most nights! Mosquitoes are my enemy. They also love to feast on Graham. I have had this problem since I can remember. I fear that all my childhood memories of bug bites are now being relived through Graham (poor kid). I can literally walk out the door to grab something off the porch and come back in with about 5 bites on my legs. This is horrible considering that they carry the West Nile Virus and who knows what else! Some people claim that there is a scientific reason behind why mosquitoes like some people over others…I personally think it is because I am so sweet (I wish I could see my husband's face when he reads that line)!
I've been seeing the OFF! PowerPad Outdoor Lamps advertised quite a bit lately and definitely wanted to try them out. We used ours a couple of nights ago while we were doing a little bit of light yard work near our deck. I have to say that I am completely impressed with this
thing! We buy citronella candles every year and I still end up with several hundred (I really don't think I'm exaggerating) mosquito bites! We were outside for about an hour working and I came inside with NO bites! That is amazing for me! The lamp works by lighting a candle that heat activates the PowerPad. The PowerPad is refillable.
Here are some features we LOVE about it:
Covers an area 15 times further than a regular citronella candle
Lasts up to 4 hours (just blow out the candle when you are through outside and it will keep if you store it properly)
Repels from an average sized deck (15ftx15ft)
Has an attractive look that could be used for outdoor parties
Has the Good Housekeeping Seal of Approval
Simple to use and refill
It WORKS!
The OFF! PowerPad Outdoor Lamp will run you about $10 depending on the store. I would highly recommend this to friends, family and foes of mosquitoes!
This post was written for Family Review Network as part of a program by SC Johnson, who also supplied the product for review and giveaway.
This giveaway has ended! Congratulations to darlanpaulsmamma!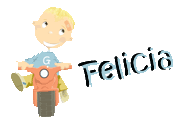 Felicia Carter is founder and managing editor of Go Grow Go. Her philosophy is to simplify, save, grow and go! Her home is generally full of DIY projects, crafts, yummy baked goods and lots of love. Felicia is also a wife, mom of 2 boys and nationally certified counselor. You can always find her near the chocolate or the coffee pot.