Leap Frog is becoming one of those names that I truly believe in lately. Graham loves his Tag Jr and now they have come out with an amazing game system that gets your preschooler moving! Zippity is like your child's very own Wii that they can operate themselves.
We were sent the Zippity by Leap Frog to review a few weeks ago. At first I was worried that it would be too big for Graham (he is 2 1/2), but he caught on pretty quickly. I will say that I think when he is a little older he will understand and enjoy it much more. Zippity is meant for ages 3-5 to bring activity to learning. The Zippity uses Playhouse Disney shows and turns them into interactive games.
Once we got the Zippity out of the box it was fairly easy to set up. Luckily our inputs for the cords were located on the side of our television instead of the back (I'm pretty sure that most current televisions are created this way to make it easier on you when using game systems). You will need C batteries so you might want to pick those up so your child can start playing as soon as you set it up. It comes with eight built in activities with 2 levels of play on each. The activities feature Handy Many, Little Einsteins, My Friends Tigger and Pooh and more!
Zippity works by placing your feet on the mat and following the instructions on screen. You can scroll through activities with the bopper and then select them by stepping on the green part of the pad. Once the activity starts your child will be prompted to use multiple parts of the mat that gets them jumping, dancing, and moving around! Graham really loves the Handy Manny activity that teaches colors by playing with the different tools! You can also purchase separate game cartridges to use in the Zippity. I'm sure Graham would love the one that features Cars! Zippity is also compatible with the online Learning Path so that parents can monitor how their child is learning.
This interactive game was also the winner of the 2009 Practical Preschool Bronze Award. I love the fact that this integrates the full body because all children learn differently. The truth is, the more you involve yourself in learning, the quicker you pick up on it. I think Zippity is a great tool for reinforcing some valuable and different learning styles. You can purchase Zippity for about $79 at most local stores or Amazon.
This product was provided free of charge by Leap Frog. These are my honest opinions on the product. I do not post reviews on products I can not stand behind. Please see my Terms of Use for more info.
This giveaway has ended. Congratulations to Jaime!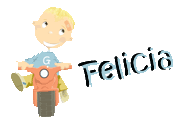 Subscribe to Go Graham Go as well as follow us on Twitter!
Felicia Carter is founder and managing editor of Go Grow Go. Her philosophy is to simplify, save, grow and go! Her home is generally full of DIY projects, crafts, yummy baked goods and lots of love. Felicia is also a wife, mom of 2 boys and nationally certified counselor. You can always find her near the chocolate or the coffee pot.