One of the great things about saving the environment, is that it can also save yo
ur money. If you are an avid reader of Go Graham Go, you already know that our family has been trying to cut costs as much as possible (I spent $47.50 at the grocery store last week). I know I talk about it a lot, but I think it really is an important key to saving! When you start adding up the money you would spend on plastic baggies, juice boxes, paper bags, napkins, plastic utensils, and more it really adds up over the year!
New Wave Enviro was created in 1994 before the whole "going green" trend started. The company realized that there needed to be a safer alternative to water (chlorine-fre
e) that you could receive on demand. They also understand that consumers are becoming more health conscious and appreciate the benefits of certain materials such as stainless steel and bamboo. I had the opportunity to sample three popular items created by New Wave Enviro: the 100% Bamboo Lunch bag (suggested retail $21.99), stainless steel food container (suggested retail $14.99), and 12-ounce stainless steel bottle (suggested retail $11.95).
Of course, the stainless steel bottle and steel food container are great because they do not leach chemicals into food or water. They are both reusable forever (stainless steel is pretty tough!) and they both fit great in a lunch box or even my purse for that matter.


My favorite item by far is the 100% Bamboo Lunch Box! I am a complete Germ-a-phobe so this lunch box is PERFECT for me! Did you know that bamboo naturally resists bacteria and is hypoallergenic? This bag is seriously soft and extremely light! You wouldn't expect something made out of bamboo to be durable, but this thing is tough! Evidently, bamboo has a tensile strength comparable to steel! We have taken it to the pool and various other places. When school starts up I will be taking this to work with me!
New Wave Enviro also has water filters, items for your pets and more! Locate a store near you (US or Canada).
This giveaway has ended! Congratulations to Pam!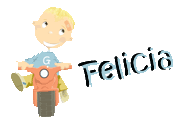 Felicia Carter is founder and managing editor of Go Grow Go. Her philosophy is to simplify, save, grow and go! Her home is generally full of DIY projects, crafts, yummy baked goods and lots of love. Felicia is also a wife, mom of 2 boys and nationally certified counselor. You can always find her near the chocolate or the coffee pot.