Call me crazy, but I think my favorite Chuggington products have come!  BOOKS!  Graham loves books so much and we don't mind having a ton of them.  We really do not put many limits on books in this house because I feel they are such a valuable learning tool.  I really appreciate it when big licenses get on board and offer a wide variety in the book department.  Chuggington and Scholastic have done an excellent job with this in my opinion.  We were sent 5 new titles to check out and I am more than happy to share them with you!
The Chugger Championship
This paperback features the famous episode where Koko must make a decision to win a race or help a friend.  The words are perfect for Preschoolers and Kindergartners.  This has been Graham's favorite of the bunch of books as we read it just about every night.  You can purchase The Chugger Championship for about $3.99 at Amazon.  Great deal for a favorite book!
All Around Chuggington
All Around Chuggington is a large board book that tells of the many adventures that happen around Chuggington.  Kids will love to lift the flaps to discover new surprises (over 40 flaps)!  All Around Chuggington retails for about $9.99 at Amazon.
Wilson And The Ice Cream Fair
We love this level 1 reader paperback!  I really appreciate that Scholastic breaks down book levels for parents.  Wilson is introduced to Frostini and helps carry the Ice Cream Cars to the Ice Cream Fair.  $3.99 is the retail price on Amazon.
Welcome to Chuggington
This new board book introduces young readers to all of the Chuggington characters!  It was fun for me because I couldn't remember some of their names (they've added some new train faces).  Pick up this book of introductions for $8.99 at Amazon.
Let's Ride the Rails
Yay for Sticker Storybooks!  I remember loving these when I was little and Graham was no exception.  There are 4 pages of reusable stickers and 16 pages to have fun with.  Graham really loved being creative and placing the trains on their tracks (and in the sky).  Let's Ride the Rails retails for $6.99 at Amazon.
This giveaway has ended.  Congratulations to Joanna!
This product was provided free of charge by Scholastic as part of the Chuggington Conductors Program. These are my honest opinions on the product. I do not post reviews on products I can not stand behind. Please see my Terms of Use for more info.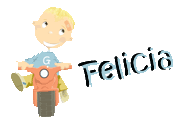 Subscribe to Go Graham Go! by Email as well as follow us on Twitter!
Felicia Carter is founder and managing editor of Go Grow Go. Her philosophy is to simplify, save, grow and go! Her home is generally full of DIY projects, crafts, yummy baked goods and lots of love. Felicia is also a wife, mom of 2 boys and nationally certified counselor. You can always find her near the chocolate or the coffee pot.