Here's another one of those products that I wish I would've known about a year ago! One of the hardest things for us to do when Graham was an infant was to go out to dinner. It seemed like there was so much gear we had to lug around with us. One of those things was a travel chair. It was a nice travel chair, but it was heavy and had to be folded just so. You see, Graham did not like to sit in those restaurant high chairs because the backs were so low. But, if we had known about the Travel Chair we could have lightened our load a bit!
I am wondering why someone did not think of this sooner! It is basically a super padded chair that folds up into a carrying bag. It is all connected so there are no pieces or parts to worry about. The Deluxe Travel Chair converts just about any chair into a high chair constraint system. The Travel Chair also has a non slip bottom so that your little one will be snug and secure! There is a four point restraint system tha
t can be adjusted to fit your child securely.
The Deluxe Travel Chair is also a great idea for shopping carts! Again, Graham would not sit up straight in those carts because of all the extra room. This would have been a solution to us getting rid of the infant car seat on the cart (not to mention, much more safe). When you are done, you simply roll it down into the attached bag, sling it over your shoulder, and hit the road! You can start using the Deluxe Travel Chair from the time your child can sit unsupported until about 37 lbs. The chair itself only weighs 7 ounces!
With so many possibilities, no wonder the My Baby's Own Deluxe Travel Chair won the iParenting Media Award. It is available in 2 colors: Red and Navy and retails for $34.99. This would make an excellent shower gift!
This product was provided free of charge by Snazzy Baby. These are my honest opinions on the product. I do not post reviews on products I can not stand behind. Please see my Terms of Use for more info.
This giveaway has ended. Congratulations to Lori A.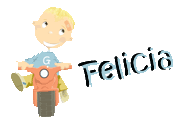 Subscribe to Go Graham Go as well as follow us on Twitter!
Felicia Carter is founder and managing editor of Go Grow Go. Her philosophy is to simplify, save, grow and go! Her home is generally full of DIY projects, crafts, yummy baked goods and lots of love. Felicia is also a wife, mom of 2 boys and nationally certified counselor. You can always find her near the chocolate or the coffee pot.