Our living room overfloweth! Yes, it is busting at the seems with Hot Wheels, puzzles, trucks, tractors, and Legos! I purchased one of those big blue tubs with handles for storage from Target, but not only is it unattractive in our living room, but, it doesn't really hold that much. When I stumbled across the Musical Toy Box by Levels of Discovery I fell in love!
This beautiful toy box is much more than just a storage center. It can be used as a bench or your very own one man band! That's right…there are instruments built in! The center of the bench has an 8 note xylophone with 2 mallets built in. There are also two spinning bell drums on either side. The Musical Toy Box is equipped with the slow closing safety hinge. This is a great feature when you have a toddler who likes to occasionally climb in and out! No little hands or heads will be smashed in this cute toy box!
Another key feature that I am impressed with is the fact that it fits all of the toys we had in the big blue bin and more! Looks are deceiving on this toy box! It is large enough to fit what you need it to fit, but not so big that it takes over the room. I am also a huge fan of the color scheme. It is very gender neutral and would be great in a shared space for a boy and a girl. It would look perfect under a bedroom or play room window to double as a window seat. Assembly is fairly easy. It took my husband about 15-20 minutes to put it all together.
The Musical Toy Box is retailing on Amazon for about $169.95. You can also find a retailer near you. When you are talking about the best bang for your buck I say that this definitely qualifies. It is a well made wooden toy box that is extremely versatile. This will be great for handing down!
This giveaway has ended! Congratulations to Life is a SandCastle!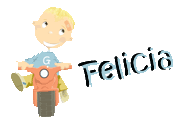 Subscribe to Go Graham Go as well as follow us on Twitter!
Felicia Carter is founder and managing editor of Go Grow Go. Her philosophy is to simplify, save, grow and go! Her home is generally full of DIY projects, crafts, yummy baked goods and lots of love. Felicia is also a wife, mom of 2 boys and nationally certified counselor. You can always find her near the chocolate or the coffee pot.