Graham loves to make things.  What he loves even more is to run his cars and trucks through his play dough and create a giant mess in the living room!  I have purchased Moon Dough in the past for my counseling office so that fidgety hands and minds have something to focus on.  I must say that I have owned the same canister of Moon Dough for 5 years and has not yet dried out!  I've thought about buying Moon Dough for Graham but worried about the mess factor.
We were sent the Moon Dough Barn to review through Team Mom. We tried it out almost immediately because as soon as Graham saw the box he was intrigued.  I must say that seeing the commercials on TV have even had me interested in this product.  You receive the barn, three different Moon Dough colors as well as two forms (hay bails and fence) and a mat to put under the barn.  The directions say that it is best to ball all of the Moon Dough up before giving it to your child.  I did this, and while it was somewhat easy to ball up, I found it to be super messy.  I showed Graham how to place the dough in the top of the barn and pull the lever and he caught on quickly.  He had fun watching the barn yard animals slid down the chute!
Graham played with this for a solid hour and showed no signs of wanting to stop, but the clean mom in me started to become completely overwhelmed by the amount of mess it was creating.  It is nearly impossible to keep all the tiny little Moon Dough pieces in a ball.  There was Moon Dough all over our coffee table (which has cracks in it) and all over the floor (which the dog kept eating).  I thought about moving the operation the dinning room table but was worried what might happen if it was ground into my dinning room chairs.  Luckily, as the instructions said, it vacuumed up VERY easily.
Overall impression
Tons of fun for kids (Graham still begs to get it out)
Lots of clean up for parents (the reason why it hasn't come back out)
Does not dry out (sanity saver as well as money saver)
My suggestion would be to offer your child smaller amounts of the Moon Dough and possibly play with this on the kitchen floor so that you can just sweep up the mess once they are done.  At 38 weeks pregnant I really do not need more mess added to what we already have!  The Moon Dough Barn retails for about $19.99 and can be found at retail stores near you.  I think this would make a great birthday gift idea (just warn the parents about the mess factor).
This product was provided free of charge by Moon Dough and Team Mom. These are my honest opinions on the product. I do not post reviews on products I can not stand behind. Please see my Terms of Use for more info.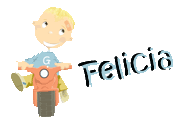 Subscribe to Go Graham Go as well as follow us on Twitter!
Felicia Carter is founder and managing editor of Go Grow Go. Her philosophy is to simplify, save, grow and go! Her home is generally full of DIY projects, crafts, yummy baked goods and lots of love. Felicia is also a wife, mom of 2 boys and nationally certified counselor. You can always find her near the chocolate or the coffee pot.