Christmas is over, but there may still be a few people on your list that you haven't seen yet.  Maybe you are like me and you like to have a few back up gifts on hand just in case someone shows up unexpectedly.  If you are an avid Go Graham Go reader you already know that I like to find great deals or make my own things (I love crafts)!  When C&H Sugar contacted me about their great gift idea website and asked me to try it out I was thrilled!  They have some cute ideas and who doesn't love sugar?  Besides, with the winter weather around here, we all have our fair share of dry skin.
I thought the Sugar Scrub was a great idea for a cheap, yet cute gift.  Most of the materials you will probably already have on hand for this project which is a huge bonus!  I adjusted this recipe a little in order to make it a bit more cost effective.


Ingredients:
1/2 cup of ground oatmeal (use a blender)
1/2 cup of brown sugar (packed)
1/2 cup of olive oil (calls for 1/4 cup of almond oil, but olive oil is more readily available and cheaper.  It is also great for your skin)
1 tsp of Vanilla extract
Small containers with lids and ribbons for decoration
Directions:
Combine all ingredients using a spatula in a large bowl until well blended. Mix should have a paste like texture. If it is too dry add more oil a few drops at a time. Conversely, if it is too oily add more dry ingredients until you reach the desired consistency. Keep stored in tightly sealed jars. May need to mix before use if ingredients settle.
When you are finished you can use these printable gift tags from C&H Sugar made especially for the Sugar Scrubs or print your own like I did.
A $20 gift card was provided by C&H Sugar to cover my expenses on this project. These are my honest opinions. I do not post reviews on anything I can not stand behind. Please see my Terms of Use for more info.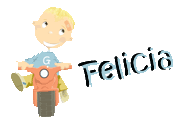 Subscribe to Go Graham Go as well as follow us on Twitter!
Felicia Carter is founder and managing editor of Go Grow Go. Her philosophy is to simplify, save, grow and go! Her home is generally full of DIY projects, crafts, yummy baked goods and lots of love. Felicia is also a wife, mom of 2 boys and nationally certified counselor. You can always find her near the chocolate or the coffee pot.