Today I am excited to share with you a video of how to make a Thomas the Train Birthday cake! When my friend Crystal posted her pictures on facebook of her Thomas the Train cake, I knew I needed her to share her info with the world! So many kids love Thomas the Train and I know there has to be a need for this some where. So, Crystal was kind enough to put together this wonderful little video on how to create this adorable cake! You may need to press the pause button to read some of her directions. Crystal was also kind enough to type up the instructions so that you can print them out!
Tip: I highly recommend if you have a craft store such as Michaels or AC Moore, prepare in advance by using their weekly coupons, which usually come in the Sunday paper or you can get by signing up for their online newsletters via email, to get all supplies at half price.
4 Days in Advance Create the Face. It is recommended that you have a Thomas the Train model available to compare as you go along.
Supplies for face:
White Wilton Fondant, or marshmallow fondant
Black Wilton Food Coloring
Gumpaste tools, or other objects around kitchen that will be just as effective
Small amount of solid Crisco
Powdered sugar or cornstarch.
Small paintbrush with little water
1 sucker stick
Small dab of almond or vanilla extract
Instructions:
1) Lay out a pastry mat or other clean surface and sprinkle a little cornstarch or powdered sugar down to keep face from sticking.
2) Choose enough Fondant to make a round ball approximately 1 to 1 ½ inches in diameter. Before creating the ball, though, add 1-2 toothpick spots of black food coloring. To mix it in best, grease fingers with Crisco while mixing and massage and work that little drop of color until the face is a light grey.
3) Once the ball is colored and shaped into a ball, flatten the face until its approximately 3 3/8" in diameter. Set on powdered sugar surface so that it will be easy to remove when finished without messing up your work.
4) Create 5 small fondant balls approximately 2mm in diameter to use for the eye whites, the nose, and the cheeks. Leave these the original white fondant color.
5) Create 1 small fondant ball approximately 3mm in diameter for the teeth.
6) Create 4 small fondant balls approximately 1mm in diameter to use for the pupils of the eyes and eyebrows. Use the Wilton food coloring to make these black.
7) Create 2 fondant balls approximately .3" inch in diameter for the backs of the cheeks. These can be left as white as well.
8) Using the gumpaste tools, find the center of the flattened face. Gently create a cave to slip a one of the 2mm balls into. Close the cave, then use fingers and a paintbrush to smooth down the lines.
9) Then, create a smile line at Thomas' mouth area. Create a small cave in the fondant at the tips of each end of the smile line and slip a 2mm ball into each, closing it down and smoothing with the paintbrush.
10) Create teeth by flattening out 3mm ball and pinching the ends. After setting the teeth in place, you can use the gumpaste tools to lift up the 'upper lip' to make it look like it overlaps the teeth.
11) For the eyes, flatten out the last 2 2mm balls into flat circles. Utilize dab of extract to rub on back of eyes before placing on face. Then flatten out the 2 of the 1mm balls into flat circles, dab with extract, then place on the whites of the eyes.
12) For the eyebrows, use the last 2 black 1mm balls and pinch the tips to make triangles and place above eyes.
13) Finally take the sucker stick and starting at bottom of face, slide it up behind the face but in the fondant until the top reaches what should be the bridge of the nose. This should be done while the fondant is still soft.
14) Place last 2 balls behind cheekbones of fondant and lie in a safe area (I used a flat food storage container). The pressure from the balls will help make the cheeks more round by the time it dries.
15) Utilize paintbrush with just a little water to smooth out any wrinkles.
MAKING THE CAKE
1-4 Days in Advance, make the cake. Once cooled, score and place in the freezer wrapped in wax paper and multiple layers of saran wrap to prevent freeze burn. Cake should have time to freeze prior to shaping. Score so that the cake has 3- 4 3/8" wide pieces
Supplies:
2 cake mixes with all ingredients needed to make, 3 cake mixes with 12x18pan.
11×15 or 12×18 sheetcake pan.
MAKING THE ICING
Before the cake is pulled from the freezer the icing should be made. A frosting buttercream is the best recommended.
Supplies:
Large batch of Frosting Buttercream
Red, Blue, Yellow, Black Wilton Icing Colors
For Thomas, I mixed in a bit of sky blue, then added a little royal blue to darken just a hair.
It is recommended that the icing be mixed prior to taking cake out of freezer.
Sturdy Cake Board
SCULPTING THE CAKE
1) Set cake on wax/parchment paper covered cake board.
2) Start by stacking the 3 pieces of cake on top of each other with frosting between.
3) Cut across 1 inch deep through first(top) and half of 2nd layer of cake. Place in front of the lower part not cut.
4) Utilizing model, start cutting away at cake.
5) You may want to stick face on cake to help with accurate measurement.
6) Utilize scraps as they fall off to fill in at needed places on train. Utilize frosting like glue.
7) Create 2 smoke stacks on top by cutting out circles in the scraps. After stacking them as tall as you need, either place a dowel rod or a straw down the center of the smokestack to create stability.
8) Layer scraps across top posterior train.
9) Once you are happy with the placement, add a 'crumb' layer over entire cake with the white icing. Let sit for 5-10 minutes.
10) Then using model as your guide, color the train by layering with colored icings.
11) Use a clean cloth to while all crumbs from around the cake off the cake board.
Remember if you are participating in Make Something Monday to link up and link back to Go Graham Go and Jolly Mom!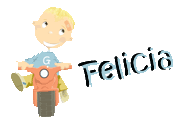 Felicia Carter is founder and managing editor of Go Grow Go. Her philosophy is to simplify, save, grow and go! Her home is generally full of DIY projects, crafts, yummy baked goods and lots of love. Felicia is also a wife, mom of 2 boys and nationally certified counselor. You can always find her near the chocolate or the coffee pot.