When it is cold outside there is nothing like a cup of good 'ol Instant Russian Tea! My mom used to make this all the time for us growing up! I've even put it in cute baggies and given it as gifts at Christmas time!
Here's Our Simple Recipe:

Ingredients:
2 cups orange-flavored drink mix (like Tang)
2 cups white sugar
1/4 cup instant tea powder
3/4 cup lemon-flavored instant tea powder
1 teaspoon ground cinnamon
1 teaspoon ground cloves
Directions:
1. In a large bowl, combine orange drink mix, sugar, tea powder, cinnamon and cloves. Mix well and store in an airtight container.
2. To serve, put 3 teaspoons of mix in a mug. Stir in 1 cup of boiling water. Adjust to taste.
Simple, easy and makes enough for an army!
If you are participating in Make Something Monday, please be sure to leave a comment so I can come for a visit!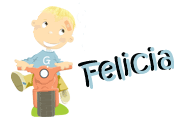 Felicia Carter is founder and managing editor of Go Grow Go. Her philosophy is to simplify, save, grow and go! Her home is generally full of DIY projects, crafts, yummy baked goods and lots of love. Felicia is also a wife, mom of 2 boys and nationally certified counselor. You can always find her near the chocolate or the coffee pot.