Here's a fun winter craft to make with your kids. It is simple enough that 2 year olds can participate. Also, you probably already have a lot of the supplies on hand (left over marsh mellows from Thanksgiving sweet potato casseroles…yum)! Make a Marsh Mellow Snowman.

Supplies for one Snowman:
3 Large Marsh Mellows
3 Skinny Pretzel Sticks
1 Fruit Roll-up
1 HERSHEY'S Kiss
1 Candy Corn
Black Gel Icing
Frosting (only a little…you could even use peanut butter if you didn't want to buy frosting)
Instructions:
Use 1 pretzel to secure all three marsh mellows together by sticking it through the middle of each.
Use a knife to create a space on the top marsh mellow for the candy corn nose. I use a sharp knife and make a slit to insert the candy corn.
Coat the bottom of the HERSHEY'S Kiss with frosting and attach it to the top of the snowman to form his hat.
Insert two pretzels on the middle marsh mellow for arms
Cut the fruit roll-up in half and then length wise to make the scarf. Make 3 or 4 slits on each end to give the scarf fringes.
Wrap the fruit roll-up scarf around the "neck"
Use the black gel icing to draw eyes, a smile, and buttons! (Make sure to do this step last because the icing will smear).
When you are done you can let your child eat and enjoy! That's the best part!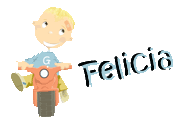 Subscribe to Go Graham Go as well as follow us on Twitter!
Felicia Carter is founder and managing editor of Go Grow Go. Her philosophy is to simplify, save, grow and go! Her home is generally full of DIY projects, crafts, yummy baked goods and lots of love. Felicia is also a wife, mom of 2 boys and nationally certified counselor. You can always find her near the chocolate or the coffee pot.