I'm so excited about next week!  I have 5 friends and family members who have volunteered to share their stories of their miracle babies.  Of course, every baby is a miracle, but you are not going to want to miss these amazing stories of life.  You will hear all about their experiences, trials, and joys.  If you have ever experienced the NICU or know of family members or friends who have stories, I encourage you to stop by and share yours as well.  It all starts July 25th.
This whole series was inspired by Pampers Miracle Mission campaign.  I am so honored to be on the Pampers Baby Board and love what they are doing with their campaign.  Also, join us for a local miracle mission where we will be teaming up with the Tye Blanton Foundation to help out local NICU families!  Can you tell I'm excited?!
"Like" to Support Other Little Miracles with Pampers!
For every click of the "I support" button on the Miracles Facebook app, Pampers will donate one diaper, one pack of wipes, and one dollar to Direct Relief International ® to help those in affected areas. For every story shared on the Miracles Facebook app, we will donate an additional two diapers, two packs of wipes, and two dollars to Direct Relief International ®.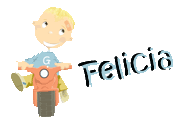 Subscribe to Go Graham Go! by Email as well as follow us on Twitter!
Felicia Carter is founder and managing editor of Go Grow Go. Her philosophy is to simplify, save, grow and go! Her home is generally full of DIY projects, crafts, yummy baked goods and lots of love. Felicia is also a wife, mom of 2 boys and nationally certified counselor. You can always find her near the chocolate or the coffee pot.