Say what?!  You are going to let your baby play with an iPad.  Why yes.  We do.  Believe me, I never thought I would let any of my kids play with my iPhone when I first got it, but it has really come in handy for so many things with the kids. I have found that if you get the right case your purchase will be safe (Otterbox or InCase).  Now… onto the apps for babies!
Baby Explorer
This is a fun app for babies that turns your iPad into a little activity table!  It has sliding rings (that are a little hard to slide, but fun), a cute little bug that can be pulled down and released for a fun sound and lights, a spinner, and choices of different activities in the center.  One that Davis really likes is to pop the bubbles.  You can also crack open eggs and make frogs hop.  Baby Explorer retails for $2.99.
Interactive Baby Sound
Graham (age 4) gets more of a kick out of this one than Davis (age 10 months).  It allows you to select different objects, animals, vehicles and hear the sounds.  Graham really likes to listen to all of the vehicles.  Davis loves the little smiley face noises and the small animations.  This app is only $.99 which is a great price if you just want to try it out (I never mind paying $.99 for an app)!
Find both of these baby iPad apps in the iTunes store from Punflay.
This product was provided free of charge by Punflay. These are my honest opinions on the product. I do not post reviews on products I can not stand behind. Please see my Terms of Use for more info.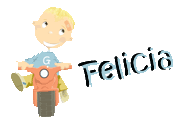 Subscribe to Go Graham Go! by Email as well as follow us on Twitter!
Felicia Carter is founder and managing editor of Go Grow Go. Her philosophy is to simplify, save, grow and go! Her home is generally full of DIY projects, crafts, yummy baked goods and lots of love. Felicia is also a wife, mom of 2 boys and nationally certified counselor. You can always find her near the chocolate or the coffee pot.