To say that I love iced coffee would be an understatement!  My husband and I both really enjoy iced coffee and will treat ourselves to them from Starbucks whenever we feel like splurging.  Guess what?  We figured out how to make them at home!  Yay!  Here's the recipe and it is SO easy:






Ingredients:
2 oz Brewed Coffee (cold brew is best).  Use a coffee with an Arabica bean. (we use the Toddy Cold Brew System…review and giveaway to come!  Yippee)
6 oz of Milk
Chocolate syrup as desired (for me 10 oz.. lol)!
Preparation:
First add the coffee to your cup.  Pour in the milk, mix in the syrup and add ice!  It is so simple and SO good (especially if you are using a cold brew system).  You could also use caramel if you like that flavor better.  YUM!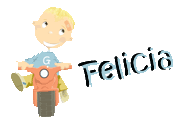 Subscribe to Go Graham Go as well as follow us on Twitter!
Felicia Carter is founder and managing editor of Go Grow Go. Her philosophy is to simplify, save, grow and go! Her home is generally full of DIY projects, crafts, yummy baked goods and lots of love. Felicia is also a wife, mom of 2 boys and nationally certified counselor. You can always find her near the chocolate or the coffee pot.