You know, when Piera and I were thinking about "Mom Time," we couldn't help but think….organization! Not only organizational products, but being organized! When you are organized you clearly have MORE TIME! You spend less time searching for things or rushing to get things done that you forgot about.
I am by no means an expert at this (if you could look at my desk you would scream)! Luckily, we have Sandy Jenney with us today! Not only is she a professional organizer….she is also a super cool lady who is extremely encouraging. She has three wonderful blogs: Organize with Sandy, Leeci Loo and 7 boys too!, and Organize with Sandy Reviews! Also, check out her website: http://www.organizewithsandy.com/.
Here's the interview with the professional organization queen herself:

Tell
us a little bit about you and your family:
I am a mother to 4 boys. My oldest is now 25 and engaged to be married. Then comes my 23 year old, almost 21 year old and still at home is my 16 year old son. I went through an unwanted divorce in 2000, but now I am thankful for it. I met a wonderful man almost 5 years ago. We married over 2 years ago and now I am also a step mother to 4 more children. His oldest son is 15 years old and he has 8 year old triplets. Two boys and 1 girl. Hence the name of my family blog, Leecie Loo and 7 boys too! Oh…and by the way, he is the same age I am…he just started later in life. I always want to tell people that so they don't think I'm a cougar!! LOL
Have you always been into organization? Why?
Yes, for as long as I remember. I think …no, I know it is because of my father. He has always kept things organized and loves to do it also.
What is the most important tip you could give someone who is trying to get organized?
Just take it a small step at a time. Don't get over whelmed when you look at a room and think it is too much to handle. Just take one small space (a chair covered with stuff for instance) and clean that off. Sort into keep (in that room), keep but it goes elsewhere, donate, and toss. (You can also have store if you have the space to keep some storage).
What are some road blocks for people trying to get organized and how do you o
ver come?
It can seem like too much to handle, so it is easier not to handle it. I think so many people look at it and have no idea what to do with everything…so they stop. How do you get rid of your Grandmothers red tea pot (even though you hate tea?) Memories, attachments to things and guilt can play a big part of not being able to part with "things".You can overcome by just moving slowly and trying to "depersonalize" the item. Do not spend 10 minutes on an item remembering the last time you saw your Grandmother fixing her tea. Move quickly and keep the memories separate from the item (I know it is very hard). That is one good reason to hire a professional organizer. We do not have an attachment to that item and can look at it from a practical sense. Does that item really have a place in this room? Will it help to achieve the look you want for your space? If not, then let it go.
What is your number one organization product "must have"
I don't know if there is really one. I love clear storage bins. For storing things (that you have room for!) they are great to be able to see in quickly. But don't forget to label them also.Of course everyone needs a pouchee purse organizer right? It is a must have I think!! (I can't say this is a must have…but it is a "wish I had" or "you should have" item)
What are the benefits to being organized?

So many!! Being able to find things when you want them. Having that "non-clutter" stress free feeling. Teaching your children life lessons. Not always having your husband yelling, "Honey…where are my keys!"
Now, please head over to Organize with Sandy and let her know you appreciate her advice! I know I do! Also, there will be more to come from Sandy on our site very soon! Keep checking back… (…Pouchees……..)!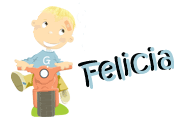 Felicia Carter is founder and managing editor of Go Grow Go. Her philosophy is to simplify, save, grow and go! Her home is generally full of DIY projects, crafts, yummy baked goods and lots of love. Felicia is also a wife, mom of 2 boys and nationally certified counselor. You can always find her near the chocolate or the coffee pot.