Here is an adorable idea for decorating the tree!  If you aren't a fan of eating okra, maybe you will be a fan of creating Santa out of okra.  Get the kids involved for some fun memories each time you decorate your tree.
What you will need:
Dried okra
Acrylic paints (black, red, pink, peach, gold glitter)
Textured snow medium
Paint brush or cotton swabs
Fishing line
Instructions:
Use red acrylic paint to paint the entire dried okra and allow to dry.  You may need to use two coats.
Use peach acrylic paint to paint on the face.  Create two eyes using black acrylic paint, two cheeks with pink acrylic paint, and a mouth with the red acrylic paint.
Paint a belt across Santa's middle as well as the bottom of the okra for his boots.  You can add a bit of gold glitter paint around the belt for an extra touch.
Use textured snow medium around the face (beard and hair), two dots above the eyes (eyebrows), the top (hat trim), and the bottom above the boots.  You can add a little heat to make it puffier.  Allow the textured snow to dry.
Once you are finished you can drill a hole through the stem top and insert some fishing line to hang on the tree!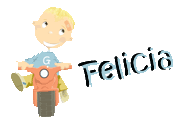 Subscribe to Go Graham Go as well as follow us on Twitter!
Felicia Carter is founder and managing editor of Go Grow Go. Her philosophy is to simplify, save, grow and go! Her home is generally full of DIY projects, crafts, yummy baked goods and lots of love. Felicia is also a wife, mom of 2 boys and nationally certified counselor. You can always find her near the chocolate or the coffee pot.