I use my iPhone for just about everything these days (because there really is an app for everything).  One of my favorite free apps is the Craft Finder by Disney FamilyFun.  This particular craft has been fun, simple, and cute to make for Valentine's Day!  Pair these with the free printable airplane Valentine's and you are good to go!
What you will need:
Smarties candy
1 Red stick chewing gum (Big Red)
2 Peppermint Lifesavers (individually wrapped kind)
Rubberband (medium to small sized and thin)
Small heart stickers
Instructions:
Open up your Lifesavers from their wrappers and insert the rubber band through them.  Position the Smarties candy between the Lifesavers over top of the rubber band.  Place the stick of gum across the top and loop the ends of the rubber band over the gum to hold it all in place.  Add small heart stickers to the top of the gum to make it more festive!
This was so much fun and extremely adorable!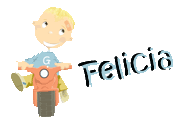 Subscribe to Go Graham Go! by Email as well as follow us on Twitter!
Felicia Carter is founder and managing editor of Go Grow Go. Her philosophy is to simplify, save, grow and go! Her home is generally full of DIY projects, crafts, yummy baked goods and lots of love. Felicia is also a wife, mom of 2 boys and nationally certified counselor. You can always find her near the chocolate or the coffee pot.