Finding books for your preteens and teens on manners can be a hard thing to do.  Of course, my go to company, Free Spirit, also has some wonderful titles for teens.  The How Rude! series is a great way to introduce some topics to your kids that they may not want to talk to you about (because you aren't cool).
The How Rude! series involves a book on Family Manners, Friendship and Dating Manners, and School Manners.  The advice that is provided in these books comes across as humorous instead of "preachy".  The topics the books focus on are actually geared towards teens because they did a study of what teens wanted to know.  These encyclopedias on manners is sure to be a fun read for your teen.
You can purchase the How Rude! books separately at Free Spirit. 
I was not compensated for this post.  The giveaway was provided by Free Spirit.  Please see my Terms of Use for more info.
This giveaway has ended and the winner has been emailed.  Congratulations to Maja!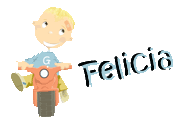 Subscribe to Go Graham Go as well as follow us on Twitter!
Felicia Carter is founder and managing editor of Go Grow Go. Her philosophy is to simplify, save, grow and go! Her home is generally full of DIY projects, crafts, yummy baked goods and lots of love. Felicia is also a wife, mom of 2 boys and nationally certified counselor. You can always find her near the chocolate or the coffee pot.