One of my students from our 7th grade girls Sunday School class gave me these and I thought it was a great idea!  These would be wonderful for Valentine's Day because of the red cranberries!
Ingredients:
5/8 cup all-purpose flour
1/2 cup rolled oats
1/2 cup all-purpose flour
1/2 teaspoon baking soda
1/2 teaspoon salt
1/3 cup packed brown sugar
1/3 cup sugar
1/2 cup dried cranberries
1/2 cup white chocolate chips
1/2 cup chopped pecans


Directions:
Layer the ingredients in a 1 quart or 1 liter jar, in the order listed.

Attach a tag with the following instructions:
Preheat oven to 350 degrees F (175 degrees C). Grease a cookie sheet or line with parchment paper.
In a medium bowl, beat together 1/2 cup softened butter, 1 egg and 1 teaspoon of vanilla until fluffy. Add the entire jar of ingredients, and mix together by hand until well blended. Drop by heaping spoonfuls onto the prepared baking sheets. Bake for 8 to 10 minutes, or until edges start to brown. Cool on baking sheets, or remove to cool on wire racks.
These could be cute Valentine's Day gift for teachers or friends!
Listed at LifeasMom.com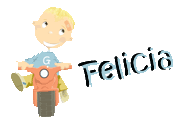 Subscribe to Go Graham Go as well as follow us on Twitter!
Felicia Carter is founder and managing editor of Go Grow Go. Her philosophy is to simplify, save, grow and go! Her home is generally full of DIY projects, crafts, yummy baked goods and lots of love. Felicia is also a wife, mom of 2 boys and nationally certified counselor. You can always find her near the chocolate or the coffee pot.