My favorite part of Christmas is always the stocking. I loved it so much as a child because you just never knew what you would find in there. My parents really went out of the way to find unique, but inexpensive items to fill it with. Of course, it is always nice to have something other than candy in the mix as well!
HEXBUG has come out with a 12 legged robotic creature called the Nano. It honestly looks like a real bug when you start it up and let it go. We were sent an orange Nano to review (they come in 5 different colors). The batteries are included and it comes in this sleek looking test tube. Your child will definitely be surprised to pull this out of their stocking! The Nano behaves like a real bug once you flip on the switch. Tiny vibrations send the Nano scampering over various surfaces. It even flips over by itself. It uses the physics of vibration to navigate different items in its path (avoiding items, flipping over, etc).


You can also get involved online! Each HEXBUG Nano is assigned it's own unique serial number and point value system. Simply register your Nano online and take quizzes about scientists in history to achieve more points, build your own virtual Nano, and see how other players are doing.
The best part? The HEXBUG Nano retails for only $7.99! You can find them at Toys R Us as well as Radio Shack.
This product was provided free of charge by HEXBUG. These are my honest opinions on the product. I do not post reviews on products I can not stand behind. Please see my Terms of Use for more info.
This giveaway has ended. Congratulations to Lee Anne.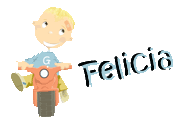 Subscribe to Go Graham Go as well as follow us on Twitter!
Felicia Carter is founder and managing editor of Go Grow Go. Her philosophy is to simplify, save, grow and go! Her home is generally full of DIY projects, crafts, yummy baked goods and lots of love. Felicia is also a wife, mom of 2 boys and nationally certified counselor. You can always find her near the chocolate or the coffee pot.