How many of you are familiar with Burt's Bees products? Most of you are probably the owners of a tube or two of their wonderful lip balm at least. Happy Green Bee was actually founded by the same person who helped found Burt's Bees! Roxanne Quimby decided to create a line of kids clothing that was simple, colorful, and organic. Happy Green Bee does what I love, it allows kids to be kids! Thank you!
Graham had the opportunity to try out the tank top and board shorts in blueberry sky. I love the vivid colors and classic feel of this outfit. The organic cotton makes this outfit super soft and breathable! These will be adorable for the pool, beach, or just hanging around outside this summer.

I don't have a little girl, but you must check out the adorable Petal Dresses if you do! The skirt is just right for spinning and the colors again, are so much fun! A little girl can look like a little girl! Imagine that! The sock hats would be precious on a little bald baby head!
Happy Green Bee also offers adorable organic dolls that are perfect for snuggling as well as a Mom's On The Go Kit filled with wonderful samples of their nursery favorites!
This giveaway has ended. Congratulations to Blue Violet!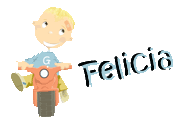 Felicia Carter is founder and managing editor of Go Grow Go. Her philosophy is to simplify, save, grow and go! Her home is generally full of DIY projects, crafts, yummy baked goods and lots of love. Felicia is also a wife, mom of 2 boys and nationally certified counselor. You can always find her near the chocolate or the coffee pot.