I have found that the hardest thing about being a mom is all the "gear" you have to carry around with you. I could quite honestly topple over most days I am loaded down with so much it seems! This becomes a problem when you want to go on vacation as well! I remember when we went to the beach last year and being loaded down and just enough room for Graham's head to peek through! There is just no easy way to store some things… well.. that is all about to change!
Meet the HandySitt! This sleek designed High Chair is also portable and functional! The HandySitt folds up flat so that you can store it just about anywhere. You can even hang it on the wall (it is beautiful enough to). The HandySitt brings your child to the dinner table. I know that this is what Graham loves. He doesn't like to be confined to a high chair away from the rest of us. This chair will accomodate a child from 6 months all the way to 5 years! It is also safe with a safety gaurd and crotch strap as well as eco friendly! There are no Phthalates and is made from steel and FSC-certified birch. It is also free from formaldehyde.
The HandySitt can easily be adjusted to fit most chairs. You do want to measure your chairs first just to make sure! It comes in 7 different color combinations. The HandySitt retails for $149.
This giveaway has ended! Congratulations to April!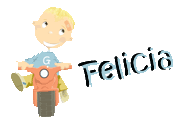 Felicia Carter is founder and managing editor of Go Grow Go. Her philosophy is to simplify, save, grow and go! Her home is generally full of DIY projects, crafts, yummy baked goods and lots of love. Felicia is also a wife, mom of 2 boys and nationally certified counselor. You can always find her near the chocolate or the coffee pot.
If you enjoyed this post, join the 4K+ others who subscribe for updates! {it's free of course}: