There's just something about Hallmark that gives me the warm fuzzies! I love to saunter through the store and check out every single detail! They really do have some sweet gift ideas and carry some brands that our family has always loved. Hallmark has long been known for making special occasions personal and memorable and now they are taking it up a notch for the Holidays.
This year you can do more than pick out the perfect card, you can actually create a personalized
DVD greeting
card
for your family.
Hallmark's DVD Greetings
are perfect for families that live far apart. What a wonderful way to have a little keepsake for grandma or grandpa to play on their computer or DVD player. You can actually customize the layout of the movie and insert your own photos. Personalize the text to make it yours! In three simple steps you will have a gift that any loved one will cherish. Just choose your photos, create your movie, and send your DVD Greeting in the mail! It even comes with its own special card to hold the DVD. Hallmark's DVD Greetings retail for about
$9.99
.
Another great gift idea are the digital scrapbooks. What a wonderful idea for the loved one who has an office job or even for the one who loves to display pictures in digital frames! Now, you can create a moving scrapbook with your families photos and set it to music (use the music provided or upload your own). You can also personalize the text to make it fit your needs. I had a ton of fun picking out pictures and using the pre-made scrapbook template that's provided. This gift would be great either already set up, or give it to them so that they can create their own Digital Scrapbook. Another idea would be to print out the scrapbook pages and give your loved one an actual scrapbook! Hallmark's Digital Scrapbooks retail for about $19.95.
Also, don't forget about Hallmark's recordable cards! We love these things! It is so much fun to go through the cards and find the perfect song that goes with your recorded message. You can also choose from recordable cards that do not feature music. You are allowed up to 10 seconds worth of a message. We have had fun recording Graham now that he is using actual words! It is fun to watch grandparent's faces as they open up a card with a sweet little voice talking to them.
These products were provided free of charge by Hallmark. These are my honest opinions on the product. I do not post reviews on products I can not stand behind. Please see my Terms of Use for more info.
This giveaway has ended.  Congratulations to Emily Armstrong and mim!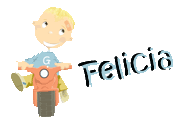 Subscribe to Go Graham Go as well as follow us on Twitter!
Felicia Carter is founder and managing editor of Go Grow Go. Her philosophy is to simplify, save, grow and go! Her home is generally full of DIY projects, crafts, yummy baked goods and lots of love. Felicia is also a wife, mom of 2 boys and nationally certified counselor. You can always find her near the chocolate or the coffee pot.