Did you know that:
~The average American uses 316 plastic bags each year
~Every year 500 billion to 1 trillion plastic bags are used and throw out
~Plastic bags are not biodegradable, they break down into tiny toxic particles that infiltrate our waterways and soil.
~Plastic bags are a huge culprit of beach litter~Stores will pay YOU to bring your own bag (Average 0.05 per bag)
~Many stores will be charging YOU the consumer for paper and plastic bags beginning January 2009!
When I came across the Green Chic Bag Company I fell in love! We all know that the time is coming when we will HAVE to bring our own grocery bags to the grocery store. Soon, it will be a requirement or we will be charged. Many stores have already started this. So, we need bags that can stand the test and last us for years to come!
The Green Chic Bag Company has quality bags at a great price! I love that the bags even have a water resistant lining to help with anything that may leak! They handles are nice and sturdy! The Green Chic Bag is also extremely roomy and machine washable. And if that wasn't enough….THEY ARE BEAUTIFUL! Thank you Green Chic Bags for creating a stylish alternative to reusable grocery bags!
I also love to use this bag as my library bag for all of Graham's books! There are so many uses! Sometimes I will use it to hold his toys when we are visiting friends as well.
Let's face it, we are ALL going to need some of these for grocery shopping, so why not buy some that are sturdy and stylish at the same time and save your money in the long run! The Green Chic Bags start at $29.95! A great deal when you start adding up all the money you will spend on the $1 ones after the wear out in a week!
Receive FREE SHIPPING with coupon code: NOSHIP
This giveaway has ended! Winner Shel!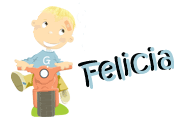 Felicia Carter is founder and managing editor of Go Grow Go. Her philosophy is to simplify, save, grow and go! Her home is generally full of DIY projects, crafts, yummy baked goods and lots of love. Felicia is also a wife, mom of 2 boys and nationally certified counselor. You can always find her near the chocolate or the coffee pot.