The following is a recipe that I've enjoyed ever since I was a child.  It is my Great-Grandmother's Potato Candy Recipe and it is still good!  My great grandmother's family was from Ireland which is where this recipe originated from I'm sure.  Because of its age, there are no exact measurements!  Don't worry…it is easy!
 This is not my actual picture, but looks just like what we make!
Ingredients:
1 Large Potato (Irish Potato)
Powdered Sugar
Peanut Butter
Wax Paper
Instructions:
Boil potato until mushy and drain water off.  Cut into small pieces and mash up potatoes in a bowl.  Add powdered sugar a little at a time and stir.  You want to add until it is the consistency of dough.  Put down a sheet of wax paper and sprinkle it with powdered sugar.  Put your dough onto the wax paper and place another piece of wax paper on top and roll it out as thin as possible.
Spread peanut butter in the middle of the rolled out dough and leave a little room around the edges.  Roll the dough into a tight roll (as tight as you can get it). Slice into candy sized pieces. It's ready to eat! You can store it in the refrigerator and save some for later.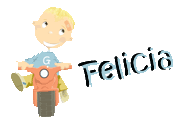 Subscribe to Go Graham Go as well as follow us on Twitter!
Felicia Carter is founder and managing editor of Go Grow Go. Her philosophy is to simplify, save, grow and go! Her home is generally full of DIY projects, crafts, yummy baked goods and lots of love. Felicia is also a wife, mom of 2 boys and nationally certified counselor. You can always find her near the chocolate or the coffee pot.