It feels like winter has been going on forever and it is taking a toll on my hands!  Most of the time moisturizers that combine hand sanitizer tend to dry my hands even more, but I really like the new Gold Bond Ultimate product.  It combines a hand sanitizer with a moisturizer.  I have always been a fan of the Gold Bond products and wanted to share this one with you.  If you are like me, you like to have some sort of hand sanitizer with you when you leave the grocery store or when you finish pumping gas.  This one is awesome for the winter!  It even has 7 different moisturizers, 5 essential vitamins and no alcohol.
You can receive a $1 off coupon to pick up some for your car or purse. 
This product was provided free of charge by Gold Bond. These are my honest opinions on the product. I do not post reviews on products I can not stand behind. Please see my Terms of Use for more info.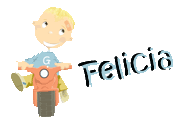 Subscribe to Go Graham Go as well as follow us on Twitter!
Felicia Carter is founder and managing editor of Go Grow Go. Her philosophy is to simplify, save, grow and go! Her home is generally full of DIY projects, crafts, yummy baked goods and lots of love. Felicia is also a wife, mom of 2 boys and nationally certified counselor. You can always find her near the chocolate or the coffee pot.