For a limited time, General Mills will be going old school!  That's right.  Starting now until March 7th, Target stores will be featuring 5 limited edition General Mills cereal boxes that will take you back!
Cheerios, Honey Nut Cheerios, Lucky Charms, Cinnamon Toast Crunch, and Trix will all be featuring retro cereal box covers as well as premium offers from the 60s and the 80s.  I can definitely remember the Cinnamon Toast Crunch box they are show casing!  Check out some of the fun promotions included as well as the differences on the boxes!
Cheerios: Favorite Family Fun games.  My box features Bullwinkle demonstrating Shuffle-O.
Honey Nut Cheerios: A chance to win an Atari Flashback 2 at RetroGameGiveaway.com.  My favorite game was Pitfall!  Check out Atari.com to play some of your favorites.
Cinnamon Toast Crunch: The Famous Flyer (need postage and proofs of purchase).


Lucky Charms: The Leprechaun Puppet (on the back)


Trix: The Door Hanger (on the back)
These retro boxes will be in Target stores until March 7th!  If you are a fan you might want to head over before they are gone!  Do you remember any of these "retro" cereal box covers?
The cereal and a retro t-shirt was provided free of charge by General Mills. These are my honest opinions. I do not post reviews on products I can not stand behind. Please see my Terms of Use for more info.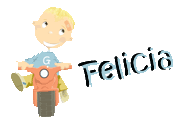 Subscribe to Go Graham Go as well as follow us on Twitter!
Felicia Carter is founder and managing editor of Go Grow Go. Her philosophy is to simplify, save, grow and go! Her home is generally full of DIY projects, crafts, yummy baked goods and lots of love. Felicia is also a wife, mom of 2 boys and nationally certified counselor. You can always find her near the chocolate or the coffee pot.