Graham LOVES pizza!  I have gotten to where I need to change up our pizza routine just so Matthew and I can enjoy it as well.  So, I waiver between making actual pizza and making snack pizzas using English Muffins.  I stumbled across this awesome recipe from Our Family Eats the other day and had almost all of the ingredients in my cabinet so I gave it a shot.  It turned out great and was quickly devoured by Graham.  I've listed the ingredients I used below and you can head over to Our Family Eats to find the original recipe.  I'm sure it is probably even better with the parsley and cayenne, but I just never seem to have that on hand.  I also substituted and used mini pepperonis (no chopping).
Ingredients:
3/4 cup flour
3/4 teaspoon baking powder
3/4 cup milk
1 egg lightly beaten
1/4 teaspoon salt
1/2 teaspoon basil
1/2 teaspoon oregano
3/4 cup shredded mozzarella cheese
1/2 cup mini pepperonis
1 cup of marinara sauce (great for when you have your tomato crop coming in)
Preparation:
Again, Our Family Eats is the master of this recipe, so you might want to check out her directions… but I am here to tell you that my shortcuts still left these tasting great!  I am a huge fan of dumping it all in and going… so that is exactly what I did!  Preheat the oven to 350 degrees.  Mix all of the ingredients together (minus the marinara) in a large bowl and let stand for 10 minutes.  Grease a mini muffin tin.  Pour the mixture into the tin and bake at 350 degrees for about 20 minutes.  Serve your marinara sauce on the side for dipping (what all kids love to do)!
Fore more recipes: Blessed with Grace, Beauty and Bedlam, $5 Dollar Dinners, Life As Mom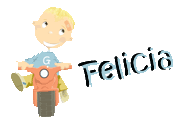 Subscribe to Go Graham Go! by Email as well as follow us on Twitter!
Felicia Carter is founder and managing editor of Go Grow Go. Her philosophy is to simplify, save, grow and go! Her home is generally full of DIY projects, crafts, yummy baked goods and lots of love. Felicia is also a wife, mom of 2 boys and nationally certified counselor. You can always find her near the chocolate or the coffee pot.