Fall is my favorite time of year!  It makes me feel crafty and I often have the urge to bake!  What I love most of all is creating simple themed crafts with Graham.  This one is perfect for a three year old and doesn't involve a bunch of expensive products.  You probably have most of these lying around the house.  This scarecrow craft would be a great idea for a kids fall festival or even for center pieces.
What you will need:
Paper lunch bag
2 googly eyes
Yellow yarn, streamers, or construction paper
Crayons or markers
glue
Tissue paper, newspaper, or paper towels
Instructions:
1. Glue your googly eyes on a flat side of the paper bag.  Draw a nose and mouth (great for teaching shapes, ie: nose=triangle, cheeks=circles, smile=semi-circle or crescent).
2.  Download and Print the Scarecrow Hat.
Have your child color it.
3. Open up and stuff the paper bag with tissue paper, newspaper, or some other filling.
4.  Glue the yellow yarn or streamers to the top of the scarecrow and place the hat on with glue.
Now you are ready to place the scarecrow on your favorite fall themed table or display it in your child's window to be festive!  You could also cut a hole in the top of the hat and use this to fill with candy corn for a treat bag.
Linked at LifeAsMom.com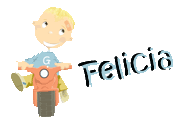 Subscribe to Go Graham Go as well as follow us on Twitter!
Felicia Carter is founder and managing editor of Go Grow Go. Her philosophy is to simplify, save, grow and go! Her home is generally full of DIY projects, crafts, yummy baked goods and lots of love. Felicia is also a wife, mom of 2 boys and nationally certified counselor. You can always find her near the chocolate or the coffee pot.