Owls seem to be all the rage these days! I have been very interested in creating invitations and decorations using PhotoShop lately and came up with these cuties! I hope you enjoy them! The invite would be cute if you printed it out on card stock, or if you cut it out and glued it onto card stock or cardboard.
The cup cake toppers work the same way. Just print them out (8 per sheet) and paste them onto cardboard. Attach a toothpick and you have it! Print the cupcake toppers!
Making your own invitations and decorations is a great way to save money! It is also fun to get your kids involved.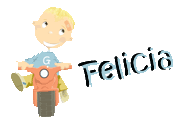 Subscribe to Go Graham Go as well as follow us on Twitter!
Felicia Carter is founder and managing editor of Go Grow Go. Her philosophy is to simplify, save, grow and go! Her home is generally full of DIY projects, crafts, yummy baked goods and lots of love. Felicia is also a wife, mom of 2 boys and nationally certified counselor. You can always find her near the chocolate or the coffee pot.