Summer is right around the corner and now, more than ever, fitness is on my mind.  We have our annual beach trip planned the end of July and I would really like to feel better about myself post pregnancy in a bathing suit.  Matthew and I have been trying to watch what we are eating and with the warmer weather, we have been able to incorporate more activity.  Now there is an easy way to track all that we are eating and doing throughout the day with Fitbit.
Fitbit is a tiny (about the length of your pinky), light weight, wireless, tracking device that makes monitoring your health so much easier.  In today's technologically advanced society, I am surprised that this is the first I am seeing something like this.  The Fitbit clips to your pocket, shirt, bra or wherever else it is convenient and stays with you all day.  It is so small that we found that you really do not even notice it.  It works by using a 3D motion sensor like you find in the Nintendo Wii.  It monitors your movement throughout the day as well as during the night in order to give you results on your steps taken, calories burned, and miles traveled.  It tracks your pattern of sleep letting you know how many times you were awakened and how long you actually slept.  For $99, this is some really great information!
See it in Action:
What is even better about the Fitbit is that it automatically updates your information online without you doing anything.  All you need is to be near the receiver/charger that connects to your computer by usb port.  After my husband used the Fitbit all day, he came inside, checked online and all of his information had already been submitted!  He didn't have to do anything!  Fitbit even has a convenient iPhone app (Android and iPad available as well) that allows you to access and update on the go.  Once you are online (or through the iPhone app) you can begin to add in the foods you consumed during the day for an even more detailed outline of your fitness.  Need a little extra support?  You can collaborate with friends online about your fitness goals and create a support network.
Honestly, if you are serious about getting your fitness in check and would like the most detailed and convenient way of doing so, Fitbit is the best bang for your buck!  Who could beat $99 for all of the technology and information that is wrapped up in this tiny device?
This giveaway has ended.  Congratulations to Karenmed409!
This product was provided free of charge by Fitbit. These are my honest opinions on the product. I do not post reviews on products I can not stand behind. Please see my Terms of Use for more info.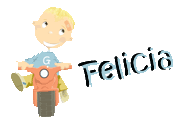 Subscribe to Go Graham Go! by Email as well as follow us on Twitter!
Felicia Carter is founder and managing editor of Go Grow Go. Her philosophy is to simplify, save, grow and go! Her home is generally full of DIY projects, crafts, yummy baked goods and lots of love. Felicia is also a wife, mom of 2 boys and nationally certified counselor. You can always find her near the chocolate or the coffee pot.